Tom Sawyer - TPC Co-Founder
March 2002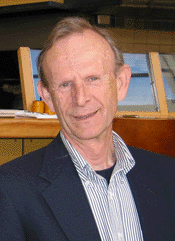 Tom Sawyer announced his retirement in March 2002. Mr. Sawyer helped to found the TPC and was the first TPC Auditor. In 1987, with Omri Serlin , he proposed the first benchmark that formalized and combined the Debit-Credit and TP1 workloads. This led to the formation of the TPC, during which Mr. Sawyer was instrumental in creation of TPC-A, the first TPC benchmark.
"He combined a deep understanding of database technology with meticulous attention to detail in his work as an auditor," said Jim Gray, Senior Researcher at Microsoft. "He was both a good listener and a teacher. He had a huge impact on the field, providing both balance and wisdom in discussions of how we should evolve performance metrics. We will miss his contributions and also his wry sense of humor."
Tom Sawyer began his career in the early 1960's at IBM, his first assignments working with customers in the Aerospace sector using large mainframes. While at IBM he helped design the DL/I hierarchical/network database with Vern Watts, Ron Obermark, and Sid Kornelis - a database which is still in use today. In 1979, as part of the DB/2 development team, Mr. Sawyer developed and delivered a full-screen interface for testing SQL statements by combining off-the-shelf components.
Mr. Sawyer left IBM for a career in consulting in 1984, and a year later, began his career in benchmarking as part of Codd & Date. Following a call from Tandem Computers in December 1986 to certify the highest transaction rate ever measured at that time on a relational database, he developed the audit procedures and attestation letter that have since become the mainstay of the TPC.
In appreciation for his outstanding service to the TPC and in recognition for his dedication to the ideals and principles of the TPC, his guidance in founding the TPC and helping to develop and audit fair, practical and verifiable benchmarks, the TPC awarded Mr. Sawyer the position of Certified Auditor Emeritus on March 31, 2002. The TPC wishes him all the best.